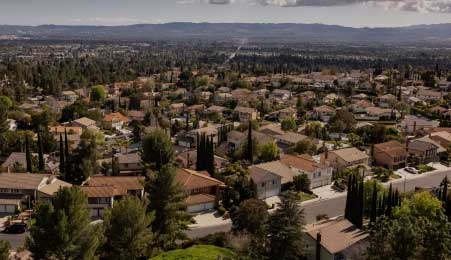 Real estate in The Valley, CA
Buyers can have their pick of single-family homes, townhomes, and condos in a variety of styles and sizes. Prevalent architectural styles include Ranch, Mediterranean, Contemporary, Modern, and Mid-Century Modern. The most desirable properties come with high-end amenities like pools, summer kitchens, and more. No matter your budget, you'll find a home that suits your needs in the Valley's diverse housing market. Since the Valley encompasses over six cities and several unincorporated areas, buyers are spoilt for choice when it comes to neighborhoods and gated communities.
Better known as San Fernando Valley, this highly urbanized area spans roughly 260 square miles, including sections of the City of Los Angeles, Burbank, Glendale, and San Fernando. With an estimated population of 1.75 million, the area encompasses some of California's most iconic enclaves, including Calabasas and Hidden Hills. Those who live here enjoy a high quality of life with a robust job market, great schools, and plenty of recreational activities. Located north of the Los Angeles Basin, the Valley is home to famed landmarks like the Brady Bunch House and the Hobbit's House. If you enjoy scenic drives, head on over to Mulholland Drive, Topanga Overlook, Malibu Canyon, and other stretches of road that command stunning views of LA and the surrounding areas. Residents also have access to outdoor attractions like Lake Balboa Park.